"The possibilities in the kitchen are unlimited and it is everyone's choice on how to exploit these possibilities"
CHEF NIKOS PATSIORAS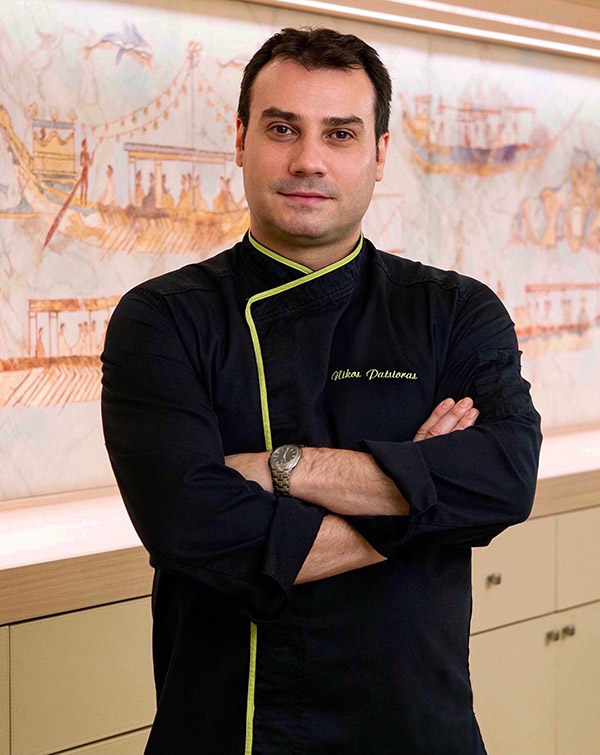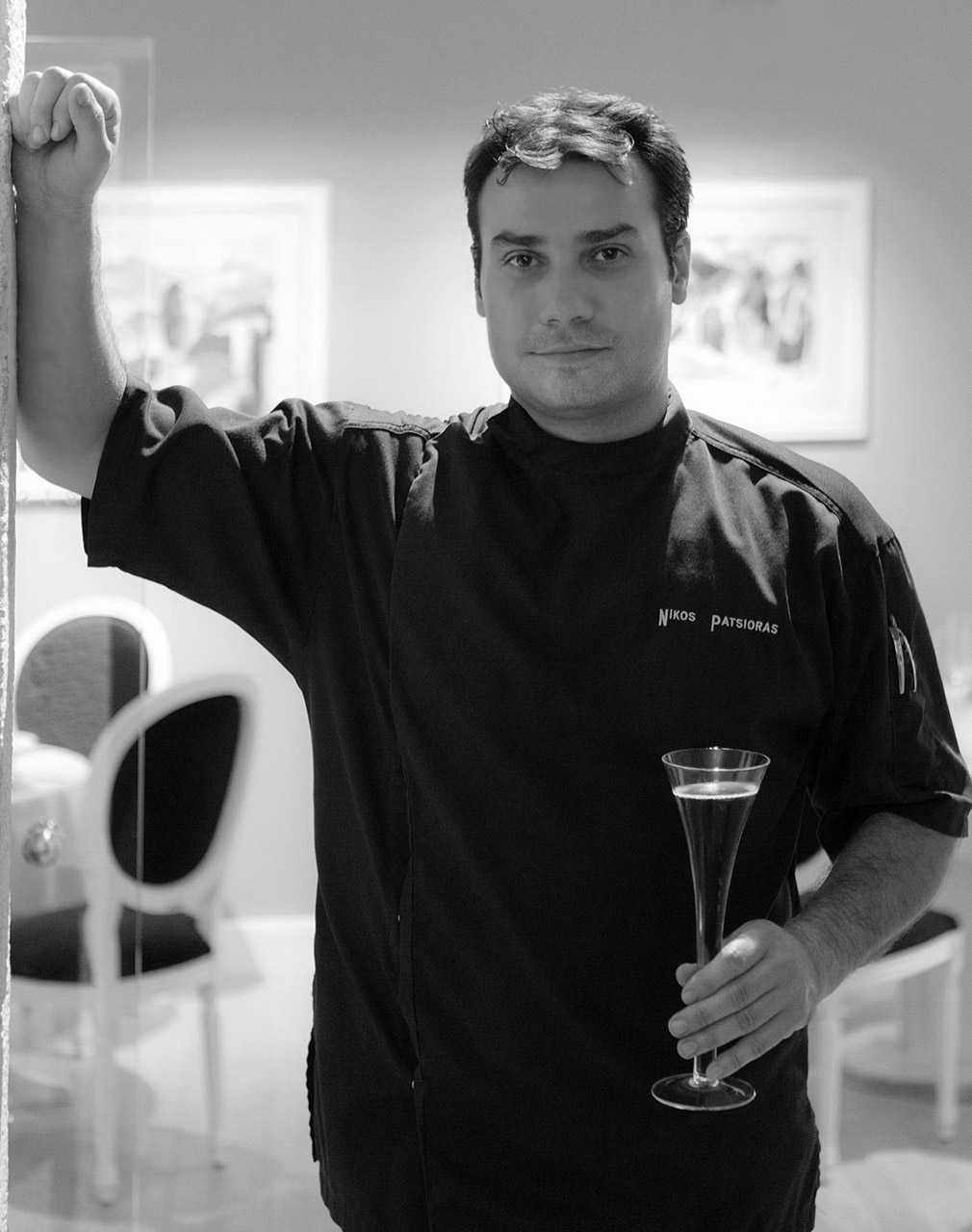 Mr Nikos Patsioras was born at Didymoteiho in Evros and has been involved with the kitchen from a young age. Following his graduation from the Chef D'oeuvre School of Professional Cooking in Athens he continued his studies at the Westminster Kingsway College in London, where he acquired the N.V.Q. [National Vocational Qualification] Level 4 Kitchen and Larder Specialist Diploma. This was followed by many trips to Greece and abroad for the purpose of obtaining the greatest possible knowledge and experiences in the world of Gastronomy. Mr Nikos Patsioras travels and cooks regularly and believes that life in the kitchen is an exciting journey that never ends.

He has worked at high-level and distinguished kitchens in various countries, many of which included restaurants with Michelin and Leading Hotels. His main principles are creativity in the kitchen with fresh raw ingredients, quality and continuous investment in knowledge and professional development.

He has continued with the same passion in his gastronomic quests with timeless motivation and a constantly creative disposition. He is ambitious and welcomes suggestions for new collaborations, proposals and challenges.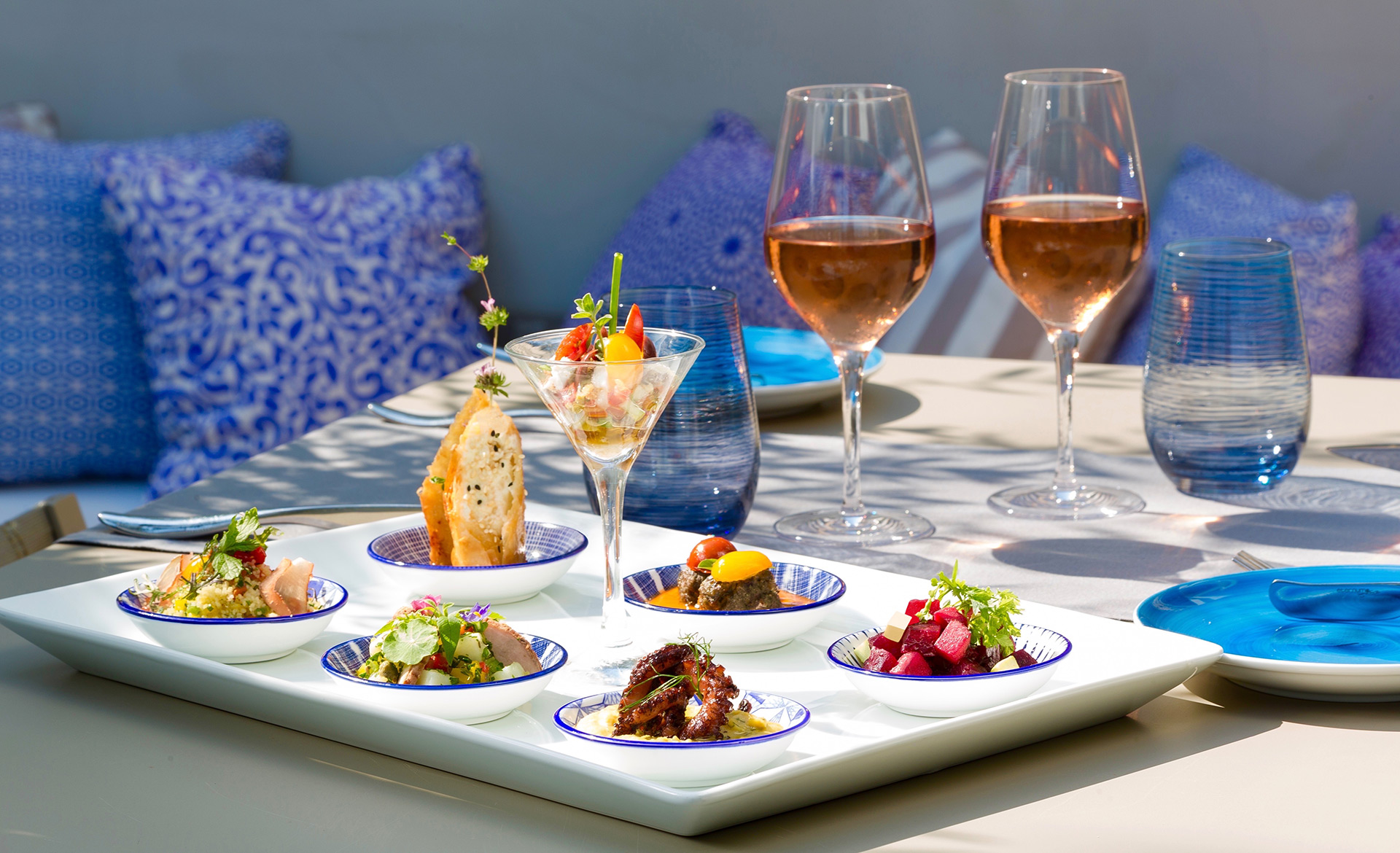 TIMELINE
Professional Experience
/
Schools
2020
2018-19
2017
2016
2014-15
2013
2012
2011
2010
2008-2009
2006-07
2005
2004
2002-2003
2001-02
1999-2000
PERSONAL CHEF
Private luxury super yacht Sea Ranger, of a length of 78 meters. Personal Chef for V.I.P. guests.
Greece, Croatia, Turkey, Romania.
CONSULTANT CHEF
Rodostamo Hotel & Spa, Corfu, Greece
Developing recipes and menus for all food sections of the hotel as well as for the a la carte restaurant RR which previously took the 1st place at the Trip Advisor reviews amongst 1307 restaurants in Corfu for 2 consecutive seasons of creative collaboration. Staff training, supervision and guidance in the hotel's main kitchen and patisserie as well as at the a la carte restaurant RR.
EXECUTIVE CHEF
Rodostamo Hotel on the island of Corfu: Rodostamo Restaurant was Νο 1 on the Trip Advisor from amongst 1294 restaurants for the 2019 season.
Corfu, Greece
EXECUTIVE CHEF – PERSONAL CHEF
On the private mega yacht "Dream" of a length of 106 metres (Winner of the 'World Superyacht Awards 2019' as the best converted Yacht award) and the private yacht "Nomad" of a length of 70 metres, owned by the ship-owner Mr Prokopiou
Mediterranean Sea, Greece, Monaco, Malta
Arab Emirates, Middle East
CONSULTANT CHEF
Radisson Blu Hotel at Split in Croatia; Training of kitchen staff and creating new dishes at the gourmet restaurant of "The Caper Grill" Hotel; Supervising the operation of the catering departments for the purpose of improving the food quality, as well as providing the best possible service to the hotel restaurant customers. Improvements and upgrades to the kitchen area.
Split, Croatia
GUEST CHEF
Jagdhof Glashütte Hotel in Germany, a member of Relais & Châteaux; Glashütte, Germany Presentation of a Greek creative cuisine menu and collaboration with the hotel and its restaurants on various gastronomic events.
CONSULTANT CHEF
Princess Kyniska Suites Hotel. Karavostasi Laconia, Greece
Μenu planning, staff training and organisation of the kitchen's operation.
EXECUTIVE CHEF
Radisson Blu Beach Resort Crete, Greece
Collaboration with the Belgian Chef with 2 Michelin stars, Yves Mattagne from the Sea Grill Restaurant in Brussels.
Responsible for the hotel restaurants:
Italian Deli
Bellevue
Olivia
On the Rocks Grill
As well as organising buffets, special evenings and events.
EXECUTIVE CHEF
"The Venetian Well" Fine Dining Restaurant, Corfu, Greece
Columnist since 2015 at the ION chocolate site: "http://www.ionsweets.gr"
EXECUTIVE CHEF
Myconian Villas Collection Hotel (seasonal)
Mykonos, Greece
EXECUTIVE CHEF
Le Pave, Winning & Dining Restaurants, Copenhagen, Denmark
CONSULTANT CHEF
Delphis Restaurant in Utrecht, Holland
Menu planning for a creative Greek Cuisine, organisation, guidance and staff
Stage at restaurant Sea Grill, 2 stars Michelin, Brussels, Belgium
SELF EMPLOYED CHEF
Collaboration with agencies:
Alpha Consulting, City Centre, City Recruit, London, England
Limited period of employment as a Self-employed Chef at luxury hotels, restaurants and catering in London that included:
• Hotel Savoy Fairmond Hotel & Resorts
• Chiswell Street Dining Rooms at Montcalm Hotel
• New Armouries in the Tower of London
• Restaurant Elements in Novotel Waterloo
• Hotel Danubius Regent Park
• Smiths Catering
• Restaurant Time and Space in the Royal Institution of Great Britain
EXECUTIVE SOUS CHEF
"Celebrity Eclipse" Cruise ship of the Celebrity Cruises company
EXECUTIVE CHEF
Avli Restaurant, Creative Cuisine & Lounge apartments, Rethymno, Crete, Greece (season 09)
CHEF DE PARTIE
Le Bristol Hotel –2 Michelin stars, Paris, France
The Best Hotel of the World 2008 by Institutional Investor Magazine, Europe's Leading Hotel by World Travel Awards, Oetker Hotel Collection
One of the Leading Hotels of the World
L'atelier des Sens, Cours de Cuisine et evénéments Culinarie, Asian Cuisine: Introduction to the art of Sushi, Paris, France
CHEF DE CUISINE
"Out of the Blu" Elite Resort Hotel Capsis, Precieux Hotel, Crete, Greece (season 08)
Stage at Spondi Restaurant – 2 Michelin stars, Athens, Greece
Stage at Capital Hotel Restaurant – 2 Michelin stars, London, England
CHEF DE PARTIE
Chateau de Bagnols – 1 Michelin star, Groupe Von Essen Hotels, Bagnols, France
One of the Leading Hotels of the World
CHEF DE PARTIE
Grand Hotel Casino Domaine de Divonne, Restaurant "La Terrasse" 1 Michelin star,
Divonne-les- Bains, France
One of the Leading Hotels of the World
SOUS CHEF
Restaurant Yiorti, (restaurant opening), Athens, Greece
Stage at La Bastide de Saint Antoine – 2 Michelin stars, Grasse, France
CHEF DE PARTIE
The Athenian Callirhoe Hotel – Etrusco Restaurant, Athens
Second best restaurant in Greece for 2005
Stage at Spondi Restaurant – 1 Michelin stars, Athens, Greece
CASUAL CHEF
London Mariott Hotel Grosvenor Square, London, England
DEMI-CHEF DE PARTIE
Grand Hotel Casino Domaine de Divonne, "La Terrasse" Restaurant, 1 Michelin star, Divonne-les- Bains, France
One of the Leading Hotels of the World
DEMI-CHEF DE PARTIE
Chateau de Divonne, 1 Michelin star, Divonne-les-Bains, France
Grandes Etapes Francaises, Small Luxury Hotels of the World
DEMI-CHEF DE PARTIE
Villa Florentine Restaurant Les Terrasses de Lyon – 1 Michelin star, Lyon, France
COMMIS DE CUISINE
Les Cepages Restaurant, 1 Michelin star, Thoiry, France
DEMI-CHEF DE PARTIE
Elounda Bay Palace Hotel, Thalassa Restaurant, Crete, Greece, Five Star Diamont Award by American Academy of Hospitality Sciences Management & Restaurants Awards
One of the Leading Hotels of the World (season 02)
COMMIS DE CUISINE
Sheraton Skyline Hotel, Heathrow Airport, London, England
COMMIS DE CUISINE
Elounda Bay Palace Hotel, Thalassa Restaurant, Crete, Greece, Five Star Diamont Award by American Academy of Hospitality Sciences Management & Restaurants Awards
One of the Leading Hotels of the World (season 2000)
COMMIS DE CUISINE
Planet Hollywood Restaurant, Athens, Greece
PRACTICAL EXPERIENCE
Continental Palace Hotel, Kos, Greece (season 99)
Westminster Kingsway College, School of Professional Cooking
Course: N.V.Q. Level 4. Kitchen and Larder Specialist, Westminster Kingsway College School of Hospitality Leisure and Tourism Studies. London, England.
Basic Food Safety Programme, Royal Institute of Public Health and Hygiene
Chef D'oeuvre School of Professional Cooking, Athens, Greece.
EXCELLENT 9.47/10
Awarded with a cook's diploma at the cook training centre during compulsory military service: Gytheio – Greece.
MY PHILOSOPHY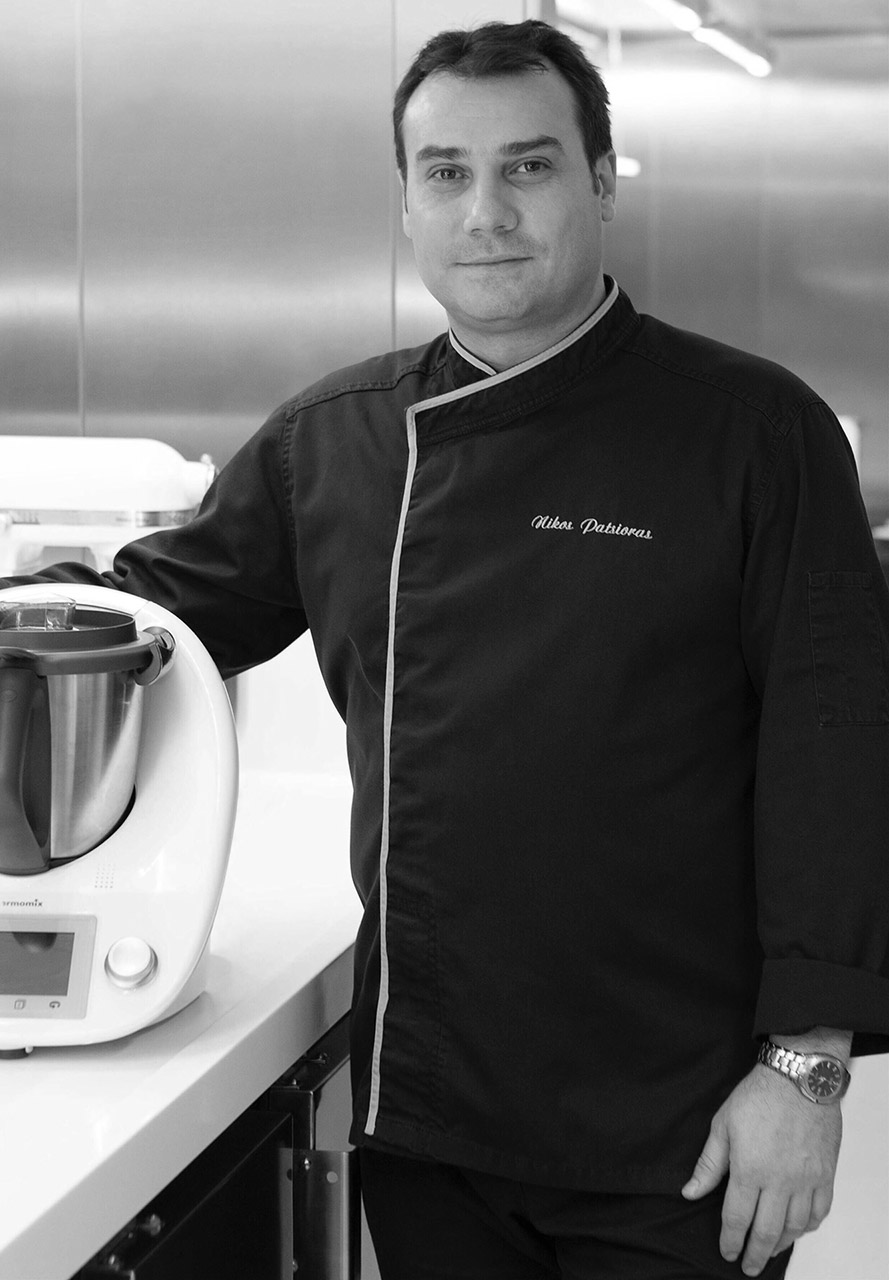 "Each day in Kitchen is a new experience"
Through the different experiences I acquired in the kitchen, I managed to view food from many angles and form my own way of thinking. My enthusiasm for cooking led me to travel several times. What I learned above all is that the journey into the world of food never ends. No matter how many things you learn, they are never enough and you always feel that something is missing, giving you an incentive for further quests. Every moment, any kitchen in the world is a source of inspiration and creativity.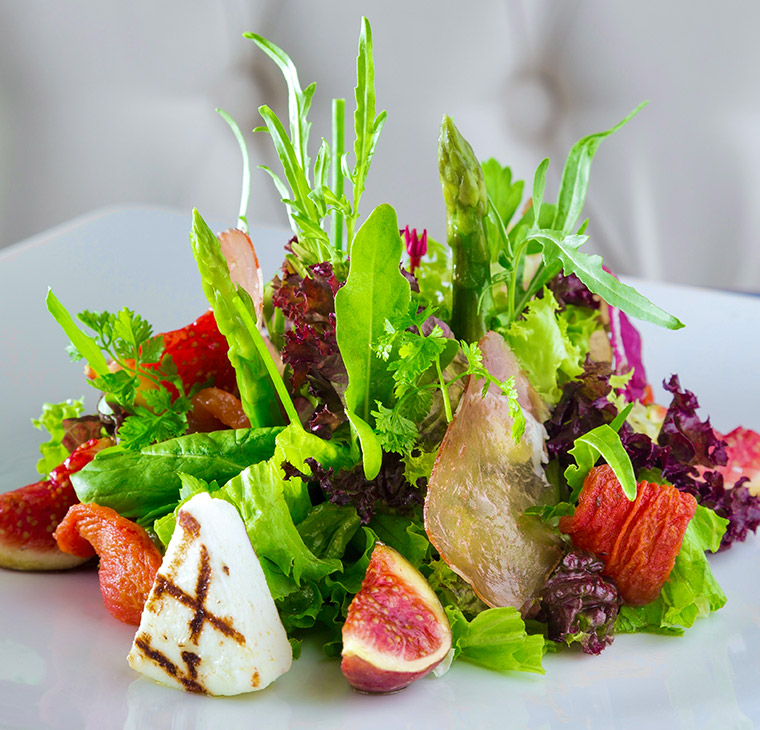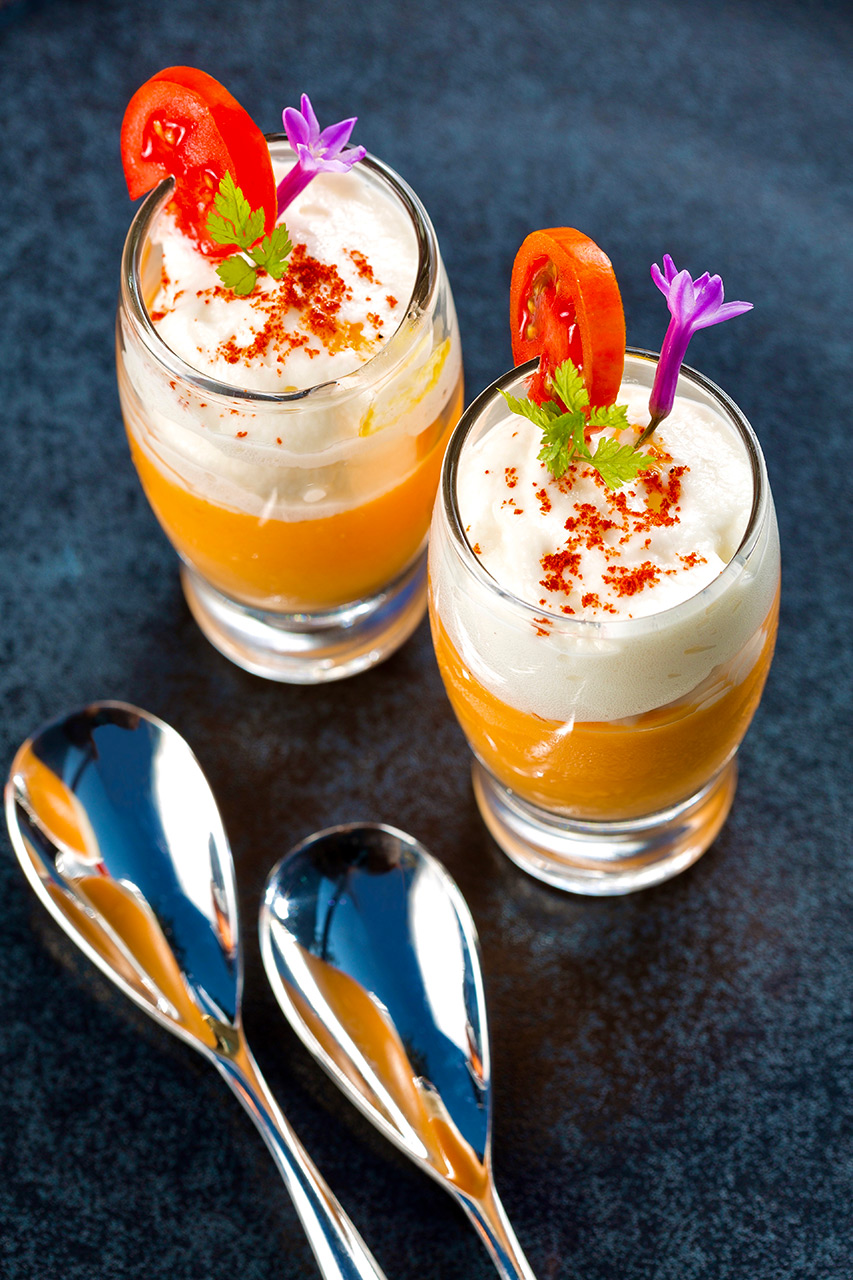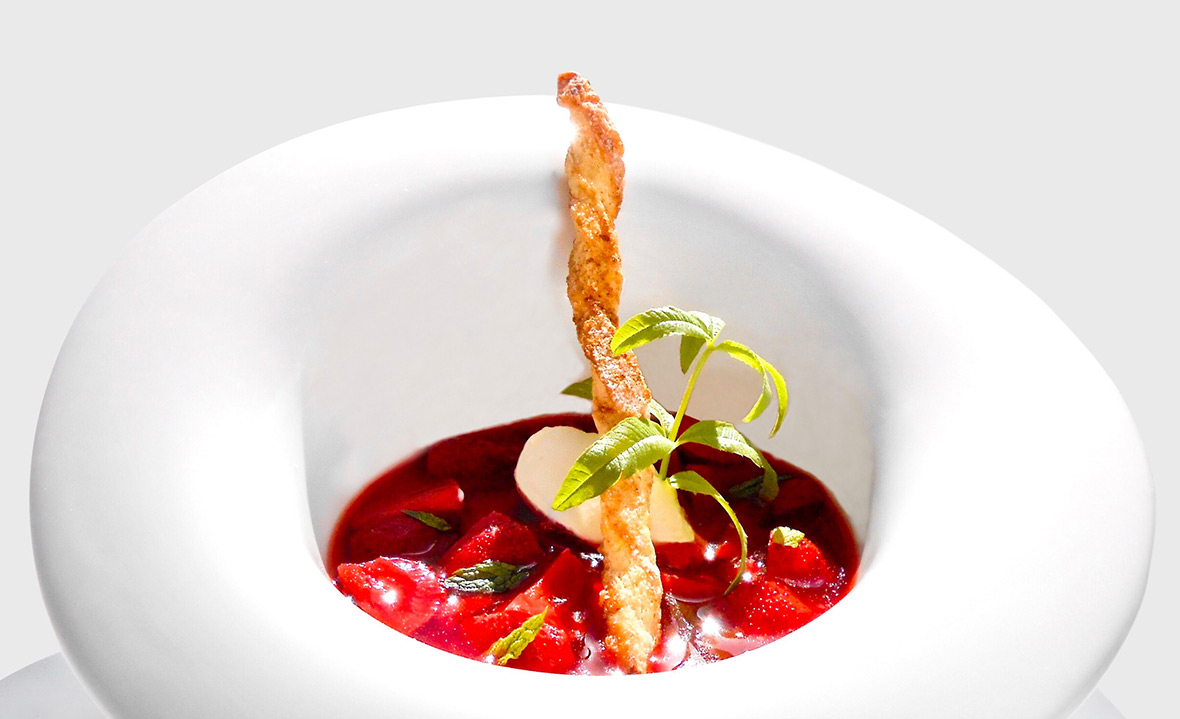 No matter where you are cooking, the feeling of making people happy and excited about food is indescribable. No matter how many hours you've worked, no matter how tired you are, the peoples' reward will lift your spirits, give you energy, self-confidence, a will and appetite for even greater efforts.
Greece and all Mediterranean countries in general, have a variety of great quality products, offering many opportunities for recipes with very tasty and healthy cooking methods. A lot has been written about the value of Greek products and their huge importance in a healthy diet. Given that Greek cuisine is based on these exceptional fresh ingredients, produced abundantly by our country, we can say that we have many advantages and there is room to optimise and promote them.
In kitchen, I started with a specific philosophy that never changed over all these years. I like everything to be fresh and handmade. A balance of the classic and the modern in the kitchen and the patisserie. I personally do not distinguish cuisine from pastry and I think that, in any cuisine, one complements the other. Creativity, always with respect for the foundations and values set by tradition and nature. Quality need not always be complicated. Even the simplest thing in the world, when made with feeling, is a luxury...
READ MORE +
TRAVELS
"Journeys are an investment in knowledge and life"
Food has no borders or ethnicity. It is the medium that brings together people, cultures, customs and traditions from every corner of the earth. In any part of the world, the local cuisine express a part of the culture, history, attitude, tradition, entertainment and character of each people.

Thus, travelling helps Chefs mature, as they see different perceptions about food, acquiring very useful experiences not only on a professional but also on a human level. Investing in knowledge is very useful, bearing multiple benefits. It is no easy feat to go alone to foreign, unfamiliar places and adapt to different societies, lifestyles, thinking and eating habits. It takes a lot of patience, perseverance and willpower, but the result is a precious experience that sets the necessary foundations for what comes next.
Apart from anything else, when travelling, one comes in contact with the culinary traditions of centuries while getting to know new culinary destinations. It is true that food has become a kind of fashion, constantly evolving with new techniques and trends in gastronomy.
 
Meanwhile, classic cuisine is always timeless and often timely. The above, coupled with the diversity and sometimes the uniqueness of the products of each region, and the local culinary tradition, render food an extremely interesting issue. This means that, for a Chef, it is very useful to gain as many experiences, knowledge, opinions, ideas and images he can, thus promoting his career and increasing his options. 
 
This cosmopolitan profession offers the opportunity to travel anywhere and to work in any place in the world we want. Nothing is simple and easy; nor is it impossible however. The risk is a given for anyone who wants to discover new things, but can be overcome with determination. Having travelled a lot, having worked with colleagues from around the world and constantly continuing my culinary - and other - adventures, I can say with confidence that it is worth it... 

READ MORE +